Tennis Club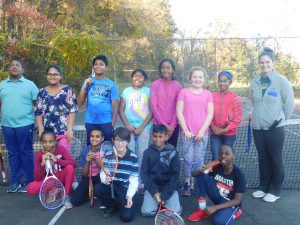 We've had an exciting trimester of tennis club! In this club, students learned all of the basic tennis skills along with the rules of play necessary for a match.  Some things we learned this trimester were, scoring, forehand hits, backhand hits, serves, volleys, positioning, teamwork, and sportsmanship. Many students were so excited about tennis they even went out and bought their own rackets. They have improved their skills immensely and they can't wait for another opportunity to participate in tennis club!

– Shirah T Bettinger
P.E. Sports Intramurals Club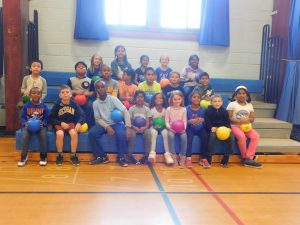 P.E. Sports Intramurals aims to encourage children to stay physically active by participating in games, activities, and sports. Participating students in the first trimester learned about and displayed positive characteristics and sportsmanship during their activities.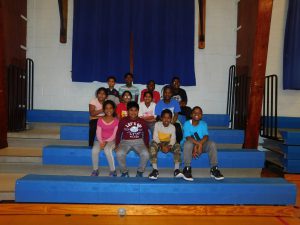 47 students from 2nd to 5th grade participated in this club every week throughout the first trimester.  Different activities were organized and set up every week to maximize student interest, participation, and physical activity.  Some of the favorite activities included: Sphereball, Island Hopping, Scatterball, Matball, Color Wars, Four Corner Soccer, Basketball, A Night at the Museum, and Battleship, among many others.
This club will take place again in the 3rd Trimester for any students interested!

– Ryan Ahl
Cross Country
Despite postponements due to constant inclement weather, the cross country team had an outstanding season. The team, consisting of 24 athletes, successfully completed the season on November 4.  
The boys' 5th and 6th grade runners were led by Kefy Diefenderfer, who broke many course records set a few years back. Kefy was undefeated in league competition. Ryan Buskey, Colton Swirsky, Aryan Sharma, Vivaan Bejjanky, Preetham Gandla, Shriyan Kandula, Aryush Sharma, and Marcelin Mukendi, newcomers to cross country showed great improvement throughout the season.  
The 7th and 8th grade boys were led by Yashaswin Bellamkonda. Gabriel D'Andrade, and Joel LaBoy were right on Yashaswin's shoulder in every race.
The girls' 5th and 6th grade team was successfully led by veteran Carly Darmetko. Carly's times showed significant improvement from last year, running close to 7:00 for the mile. Aayushii Badami and Sadie Tromans, who were new to the sport, demonstrated toughness in each race they ran.
The 7th and 8th grade girls were led by Leana Sousa. Leana showed significant improvement in her three years as a cross country team member.  She was pushed in each race by rookie Sneha Majo and second year member Carly Taylor. Syraea Lawson and Tanisha Muralimanohar had outstanding seasons. Melldjy Metellus improved dramatically throughout the two months. Sisters Dalanda and Hula Diallo, demonstrated grit and determination in every race.
Special award medals were handed out  at the end of the season. Those awards and recipients were as follows:
Most Valuable Athlete – Kefy, Sneha
Most Improved Athlete – Carly D, Gabriel 
Respect Award – Carly T., Yashaswin
Great Attitude Award – Ryan, Dalanda, Hula
Leadership Award – Tanisha, Leana
Mr. Blanchet would like to thank all the parent and teacher volunteers that assisted at the meets. He wishes to also thank the parents who attended the meets. And lastly, he wants to congratulate all the cross country athletes for their commitment to the team.

– Charlie Blanchet
Yearbook Club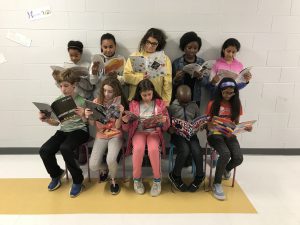 Students in grades 6-8 have been introduced to multiple tasks that must be completed during the creation of a school yearbook. They have been busy choosing possible covers, taking photos of Trimester 1 clubs, learning the ins-and-outs of the online creation software, and asking businesses to sponsor the Menands School yearbook by contributing an advertisement. The creation of the yearbook is a big responsibility, but our Yearbook Club members are up for the challenge! 
– Mrs. Wroblewski and Mrs. Stanton