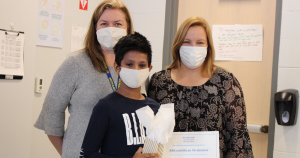 Menands 8th grader Aditya Sivakumar took first place in the school spelling bee, held on Jan. 28. After 25 rounds over several hours, Sivakumar correctly spelled 'marquee' to take the top spot.
Second place went to Adi Thumilan (grade 6) and in third place was Meenakshi Nair (grade 4).
Sivakumar advances to the Capital Region Spelling Bee, which will be held in March in a virtual format.