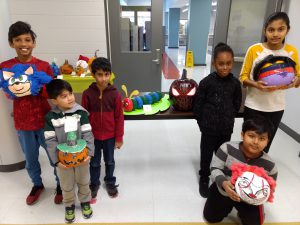 Menands students and faculty members had their Halloween spirit and artistic talents on display recently for the annual Create a Character Pumpkin Contest.
Among the 57 entries were fan favorites like Spiderman, Dogman, Hello Kitty, Little Red Riding Hood, and Pinkalicious.
This year's winners:
Kindergarten – Juan Diego Muniz Sanchez/Jackolantern
Grade 1 – Abhi Koripella/The Hungry Caterpillar
Grade 2 – Kayin McKay/Spiderman
Grade 3 – Siddharth Sahoo/Pennywise
Grade 4 – Kritika Roy/Bad Case of Stripes
Grade 5 – Vivaan Bejjenky/Sonic
Faculty/Staff – Mrs. Schroeder/Cinderella
Thank you to all who participated!