2023-2024 Budget for Menands Union Free School District
*If you need this in an accessible format, please reach out to District Clerk Liz Mentiply by email: lmentiply@menands.org
Overarching District Goals
Student Achievement and Success
Our school community will provide the necessary supports and opportunities for proficiency and success among our students. Faculty and staff will have the knowledge and skills to develop and implement curriculum and instruction that meet the unique needs of all learners.
Social Emotional Learning
We are committed to the development of the whole child by engaging students, staff, and families in opportunities that create and foster a safe and supportive school community.
Diversity, Equity, and Inclusivity
Recognizing the diversity of our student body, the MUFSD is committed to the growth and development of our school community to provide an equitable education for all students that eliminates race, ethnicity, class, gender identity, sexuality and disability as predictors of student success, and creates a community where all members feel valued.
Fiscal Responsibility|
To prudently manage existing district resources to maximize opportunities for students aligned with district goals while advocating for increased funding to better support the needs of our school community.
Keep in mind
We will budget from the perspective of what we know to be true at this moment in time.
There is no doubt this will change as we move throughout the budget process.
We want to be mindful of the COVID funding that will be sunsetting.
What Will Shape Our Process
What do our students need?

In consideration of what has changed

What do we want for our students?
How can we accommodate both?
Operations and Maintenance & Physical Plant Needs
What to Expect at this Workshop
Overview of the Governor's Proposed Budget
Tax Cap Calculation
Factors Influencing Budget Development
The Executive Budget Proposal
For the second year in a row an improvement over what we have come to expect – welcome news
Continued commitment to fully fund Foundation Aid (*BUT . . .)
No mention of eliminating or combining expense based aids (*BUT . . .)
AN OPPORTUNITY:
The budget as proposed coupled with current COVID funding continues to provide opportunities to address student, staff and facility needs, and plan and prepare for future years, when current funding sources are no longer available.
Foundation Aid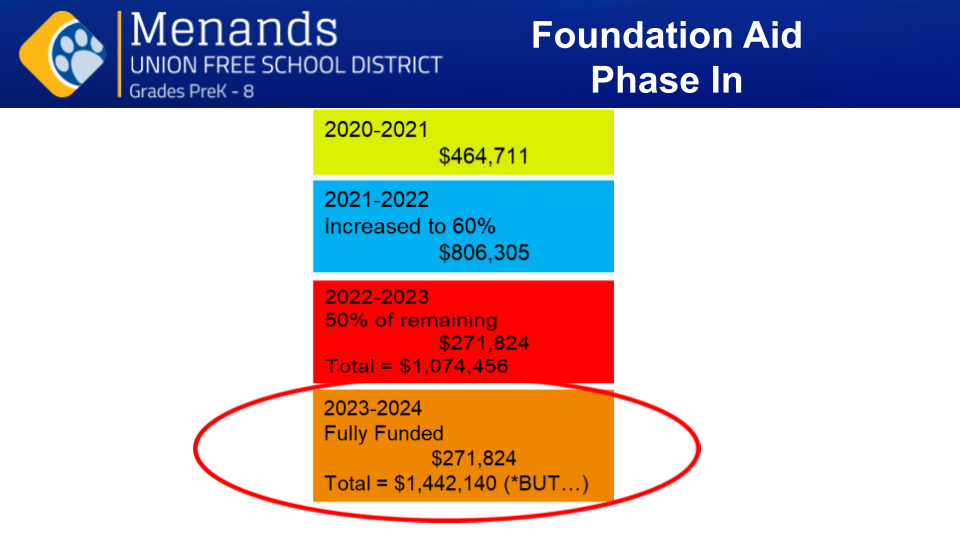 Governor's Proposed Budget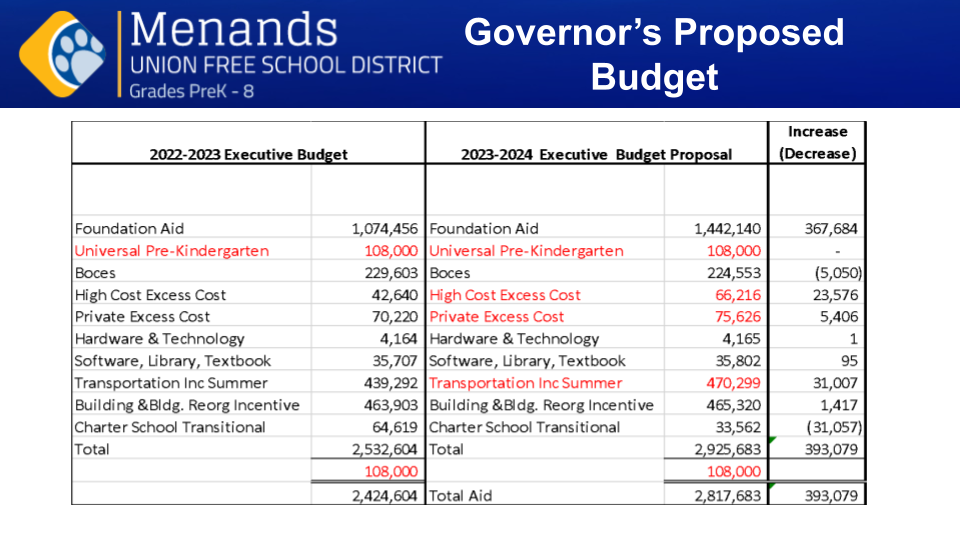 Adjustments to proposed budget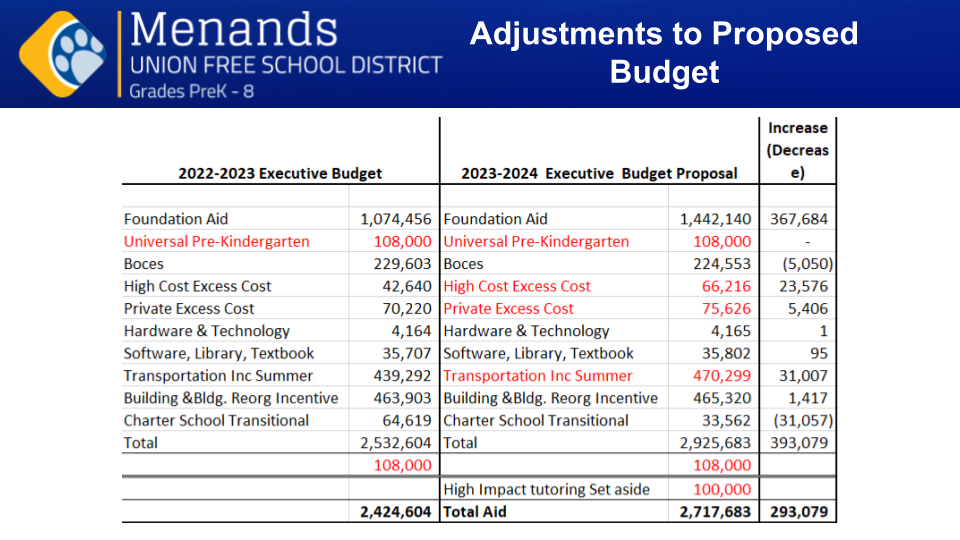 Tax Cap Calculation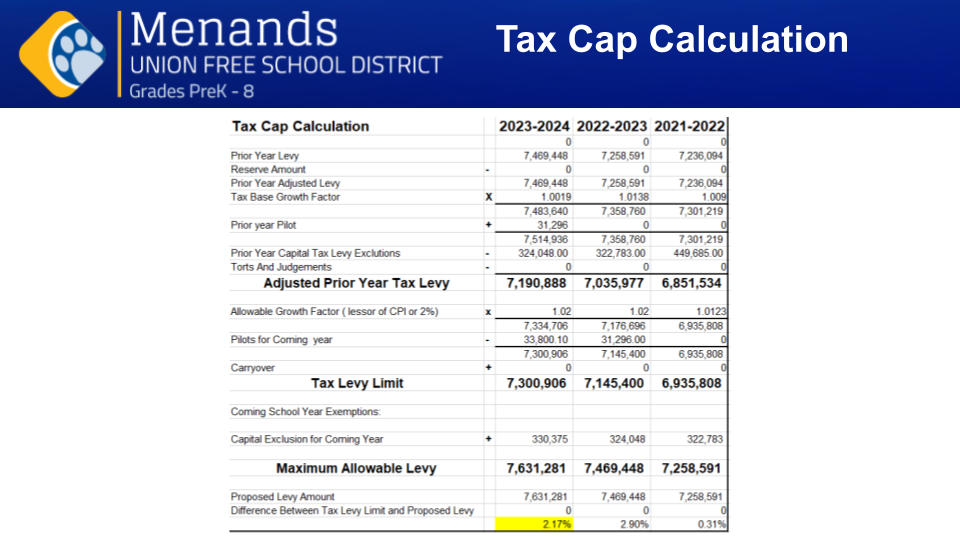 Driving Factors
Board/District Goals and Strategic Plan
Mandates
Student, Staff & Facility Needs
Things we would like to do
Uncertainties & Unknowns
Tuition
Special Education Needs and Associated Costs
Enrollment and Staffing
BOCES Final Service Request
Our Efforts to Date
Advocacy with Assemblyman Steck Scheduled
Legislative Breakfast
Senator Ashby Visit
Participated in opportunities to "unpack" the information to date
State Aid Planning Webinar- Wednesday, February 8
Review of NYSCOSS Summary- Thursday, February 9
BOCES Superintendents Legislative Meeting- Thursday, February 9
SBO Monthly Meeting Overview- Friday, February 10
NYSSBA Capital Conference- Friday, February 10
What to Expect at the Next Workshop on March 13
Any Updated Information out of the Capital/Governor's Office
2023-2024 Draft 1 Budget