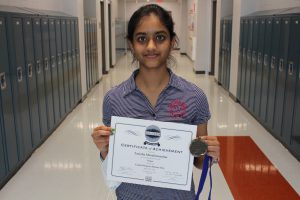 Menands 8th grader Tanisha Muralimanohar is a state finalist in a research competition held in recognition of National History Day. 
Tanisha finished second in the regional part of the competition for which students were tasked with researching a significant historical event in the context of the theme "Communication in History: The Key to Understanding."
Tanisha decided to focus on a famous miscommunication that some historians believe led to the bombings of Hiroshima and Nagasaki. In July 1945, Allied leaders demanded total surrender by the Japanese. When the press asked for a response, Prime Minister Kantaro Suzuki used the word mokusatsu.
"That term has multiple meanings," Tanisha explained. "One is 'no comment' and the other is 'not worthy of comment.'"
The response was translated to Allied leaders as 'not worthy of comment' and ten days later the decision was made to bomb Hiroshima.
"The main thing I took away is that you have to think before you speak or take action, especially when you're in an important position making big decisions," Tanisha said.
Tanisha had an opportunity to revise their project based on feedback from the regional competition. Results of the statewide competition are expected to be announced in late April. Tanisha admitted that they would like the opportunity to do more research and move on to the national finals.
"I think people have this mindset that history is boring, but when you read powerful articles it makes a connection. It's really interesting."