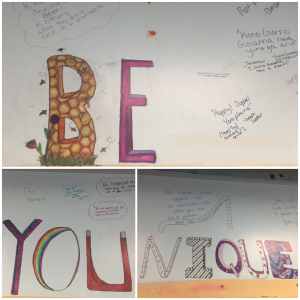 Students in No Place for Hate club are in the process of bringing a powerful message to life with a colorful mural that reads "BE YOU-NIQUE."
The mural, created on Mrs. VandenBerg's wall, represents the club's efforts to ensure that Menands School is a kind, inclusive and bully-free place for all.
Club members Divyasri Bollu, Kadambari Suresh and Tanisha Muralimanohar wrote a brief essay about the mural and how it reflects their aspirations:
One wall against bullies, One giant mural against HATE
Bullying is a serious problem. Even though many people realize this, they don't take any actions against it. They don't really care about it. But now, things are changing and a handful of middle schoolers have taken it upon themselves to reduce, or better, stop bullying. The No Place for Hate club has officially taken its first step to reduce bullying. We've redecorated Mrs. Vandenberg's wall to say "BE YOU-NIQUE."  Now that you know about it, we're sure you want to help. Here's how: all middle schoolers can join No Place for Hate. And for all the younger children, just make sure you're kind and caring. 
The No Place for Hate club is all about spreading friendship, trust, unity and a happy school environment for students. This club is mainly about bullying awareness, but also about just being kind. Students can come during lunch and recess to work on projects for the club. We learn how to compromise, work together and just have fun. We work on many different projects to symbolize kindness. I am sure you will do all you can to reduce bullying.