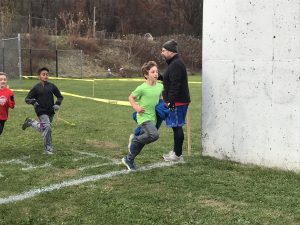 Congratulations to all the runners who competed the 2019 Menands School Pumpkin Run! A big 'thank you' goes out to the many staff volunteers who pitched in to make it a great event.
In the third and fourth grade half mile race, fourth grader Anjan Bonagiri (3:38) finished first overall and was followed closely by fellow classmate Seeraj Bellamkonda (3:43). Fourth grade girls Zoha Khan (4:36) and Sabreena Dukett (5:22) followed shortly after, finishing sixth and tenth overall. Of the third grade boys, Kelton Sleck (4:00) and Shawn Mendonca (4:07) received third and fifth place. Harley Tramposh (4:01) finished as the fastest third grade girl and Elise Barden (4:04) followed closely behind in second place.
In the fifth and sixth grade one mile race, sixth graders Chris Hansen (7:00) and Ryan Buskey (7:03) captured third and fourth place for the boys. The first fifth grade boys to finish were Kefy Diefenderfer (6:05) and Aidan McCarthy (6:58). The girls were led by fifth grader Joa Landas (7:08) and sixth grader Carly Darmetko (7:11). In sixth grade, Mackenzie Evans (7:33) finished in third place.
In the seventh and eighth grade one mile race, seventh grader Melvin Brown (5:49) led the way, claiming first place for the boys and the fastest mile time for the day. He was followed closely by seventh grader Khalil Williams (6:08) for a second place finish. Joel LaBoy (7:02) and Jeffrey Rodrigo (7:17) were first and second for the eighth grade boys to finish.  In the girls race, eighth graders Leana Sousa (6:43) and Shayla Duvall (6:53) finished first and second overall. Seventh grader Keely Wilson (7:19) finished fourth for the girls.
More photos from the event are available on our public Facebook album.
Top 10 for each race
Grades 3/4 Boys
Anjan Bonagiri 3:38
Seeraj Bellamkonda 3:43
Kelton Sleck 4:00
Maddox Gandy 4:00
Shawn Mendonca 4:07
Prince Kyiretwie 4:09
Mattan Cadet 4:17
Ibraham Diallo 4:18
Pranaav Saravanan 4:18
Swaran Rao 4:20
Grades 3/4 Girls
Harley Tramposh 4:01
Elise Barden 4:04
Adhiraa Sivakumar 4:22
Evelyn Jaskula 4:30
Hasini Bhadri 4:30
Zoha Khan 4:36
Teagan Decker 4:46
Lucia D'Andrade 5:13
Hira Naz 5:20
Sabreena Dukett 5:22
Grades 5/6 Boys
Kefy Diefenderfer 6:05
Aidan McCarthy 6:58
Chris Hansen 7:00
Ryan Buskey 7:03
Marcelin Mukendi 7:07
Colton Swirsky 7:12
Sam Laboy 7:20
Mudaser Nawaz 7:27
Vayden Keith 7:31
Aryush Sharma 7:33
Grades 5/6 Girls
Joa Landas 7:08
Carly Darmetko 7:11
Mackenzie Evans 7:33
Cineya Gholston 9:05
Ella Ponzo 9:06
Summer Grieco 9:08
Allie Masline 9:10
Aayushi Badami 9:11
Nana Kyrietwie 9:13
Kaylee Moody-Brabham 9:23
Grades 7/8 Boys
Melvin Brown 5:49
Khalil Williams 6:08
Yashaswin Bellamkonda 6:11
Jeffrey Boulet 6:53
Joel Laboy 7:02
Ibrihima Kaba 7:10
Gabe D'Andrade 7:10
Jeffrey Rodrigo 7:17
Shubham Patel 7:45
Aditya Sivakumar 7:45
Grades 7/8 Girls
Leana Sousa 6:43
Shayla Duvall 6:53
Adriana Fogarty 7:16
Keely Wilson 7:19
Lilly Nevins 7:22
Selena Smith 7:30
Sneha Majo 7:30
Carly Taylor 7:30
Caleigh Nevins 7:44
Tanisha Muralimonhar 8:00