Almost 50 Menands students were recognized Tuesday at the second quarter Citizen/Scholar/Honor Roll Assembly.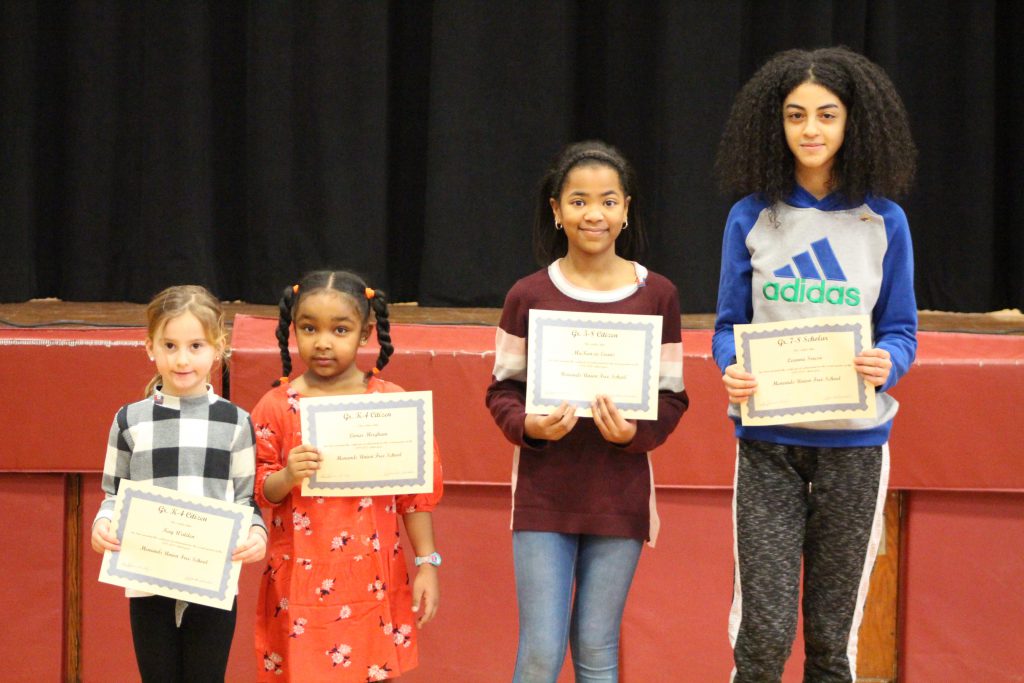 Citizen – K-4 and 5-8
This award recognizes students who are respected, reliable and who are helpful to others in our school or in the community.
Kay Walden, K-4 recipient
"Our next citizen is described as a wonderful example for others. She is always willing to help a friend in need and includes others when playing or working in a group. This student enjoys helping  others who are new to Menands School by volunteering to help guide the new student to different areas in the classroom, model routines and procedures and simply showing the new student where materials can be found in the room."
Limar Mirghani, K-4 recipient
"This student always comes to school ready to try her best. She is incredibly kind, polite and thoughtful of others. This student helps new students feel welcomed by serving as a language translator, giving daily smiles, high fives and waves in the hallway."
Makenzie Evans, 5-8 recipient
"This student is described as an all-around nice person who is kind and considerate to everyone. She always works hard to do her best and serves as a positive influence to her peers."
Scholar – 5/6 and 7/8
This award recognizes students who strive to do their best in school and at home in completing assignments, projects, and preparing for upcoming quizzes and tests.
Leanna Sousa, 7/8 recipient
"This student completes high quality work and puts forth extra time to be successful with her school work. She is respectful and helpful as she does her best during each class."
Superintendent's List (95+ average)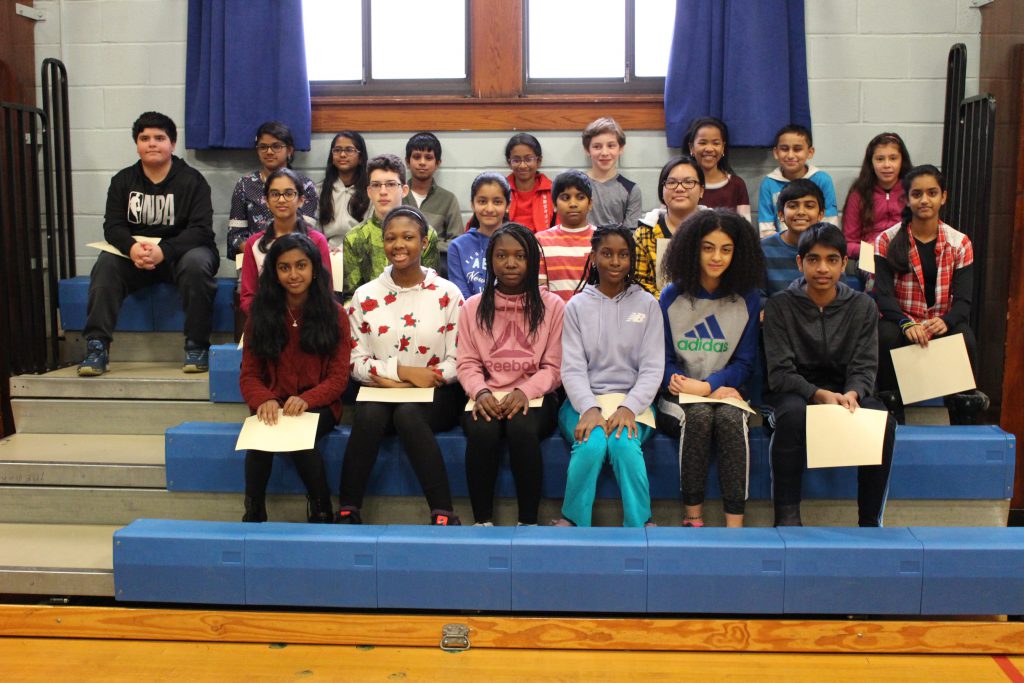 Aayushii Badami, Yashaswin Bellamkonda, Divyasri Bollu, Andrea Camara, Gabriel D'Andrade, Sam Dunsker, MaKenzie Evans, Sanvi Jaju, Pranav Kumar Kandakurthi, Julianna Lacson, Sneha Majo, Melldjy Metellus, Sivahari Mohanraj, Tanisha Muralimanohar, Sanyu Nanteza-Kimuli, Mudaser Nawaz, Liam Nevins, Ella Ponzo, Neha Prabhu, Adityamithran Sivakumar, Leana Sousa, Kadambari Suresh
High Honor Roll (90+ average)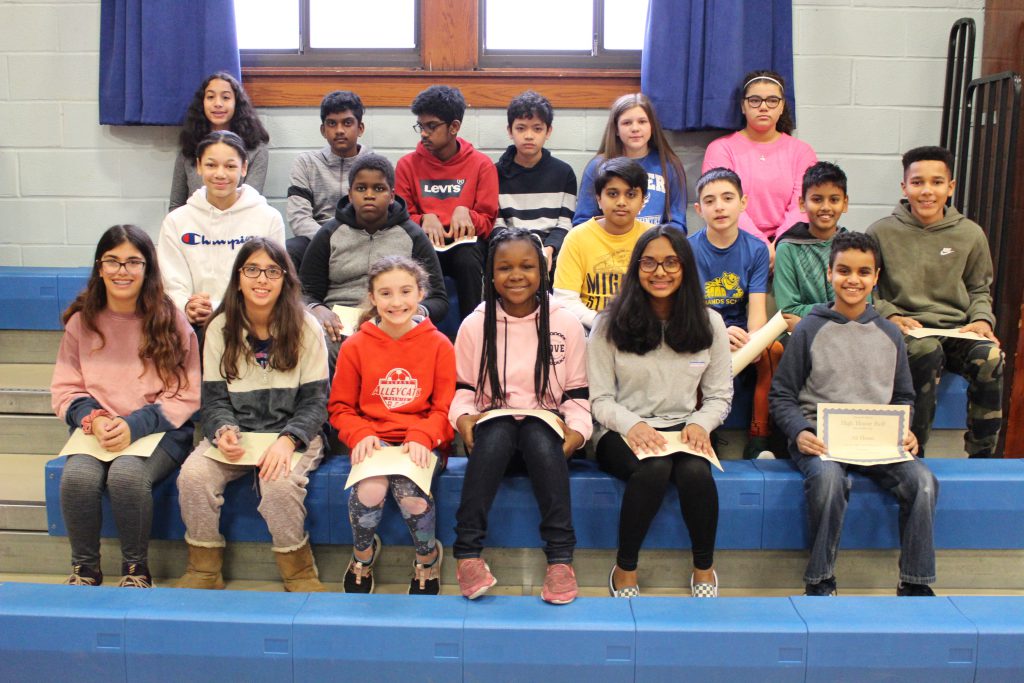 Jeffrey Boulet, Melvin Brown, Krithik Chirra, Shayla Duvall, Nihitha Ganneboina, Ali Hasan, Allison Masline, Caileigh Nevins, Lilly Nevins, Besem Ojong, Kansas Ponzo, Jeffrey Rodrigo, Jerome Rodrigo, Sanjay Saravanan, Daniel Sebagala, Carly Taylor, Keely Wilson, Josh-Herald Yap-Abelardo
Honor Roll (85+ average)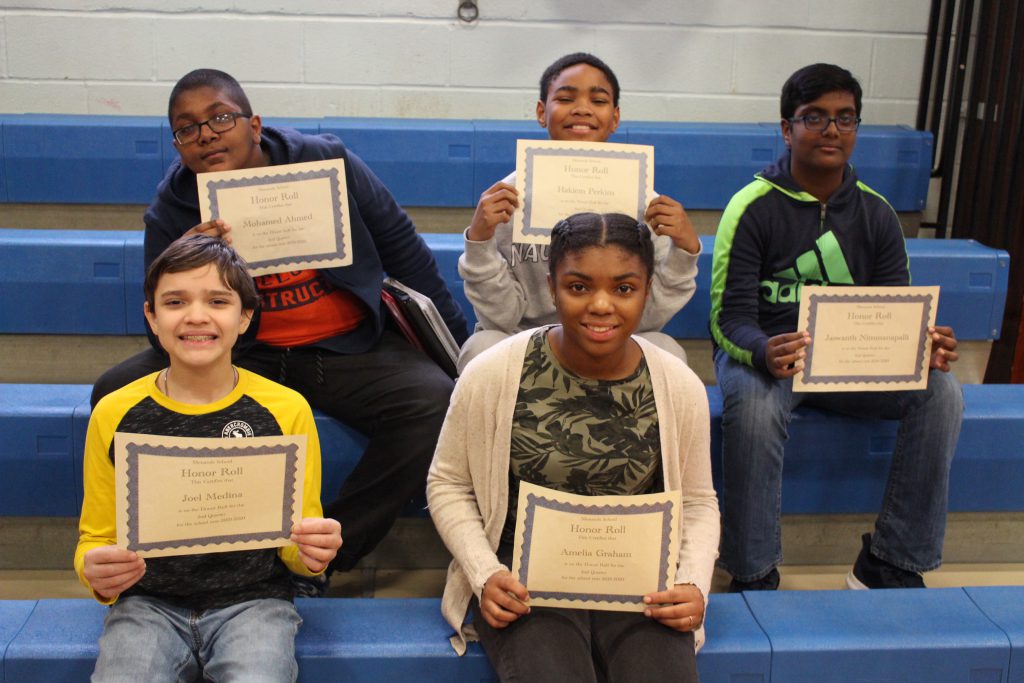 Mohamed Ahmed, Amelia Graham,  Joel Medina, Jaswanth Nimmanapalli, Hakiem Perkins
Congratulations to all who were recognized! Keep up the good work!
More photos from the event can be seen on our public Facebook album.