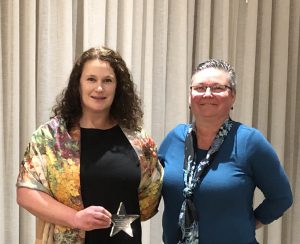 Menands school counselor Cheri Vandenberg was honored Wednesday evening with the Capital Area School Development Association (CASDA) Friends of Education Award at the 4th Annual Friends of Education Dinner in Albany. CASDA presents this award to recognize the selfless contributions of individuals who dedicate themselves to serving students and enriching their school communities.
Cheri first came to Menands as a part-time counselor in 2009 and soon became an integral member of the school team, leading her to a full-time position. Cheri's list of contributions to the district goes far beyond her duties as a school counselor and includes serving as district DASA Coordinator, overseeing the after-school Homework Club, coordinating donations for students in need, and orchestrating the district's High School Fair for 8th grade students and their parents.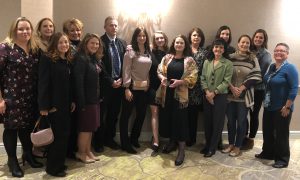 She also serves as the district registrar and McKinney-Vento Liaison, acting as a resource and advocate for our students and families in transitional housing. She is a certified Therapeutic Crisis Intervention trainer for district staff and currently serves as co-president for the Menands Association of Teachers.
Cheri's tireless dedication, commitment and numerous contributions to our students and school community make her well-deserving of the Friend of Education distinction.