A week filled with building, creating, designing, exploring and learning. Tiger Tales has it all this week! Let's see what we've been up to here at Menands!
Tiger Tales of the Week:
Our students and faculty took on the role of Dr. Frankenstein this spooky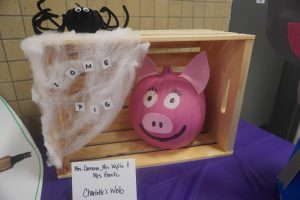 season to make their favorite literary characters come to life. The annual Character Pumpkin Contest lifted our best book buddies off the page and onto the faces of our very own pumpkins. Look forward to next week for the winners of the Character Pumpkin Contest and check out all our photos HERE!
STEM has invaded Menands! On Monday, October 23rd, our 3rd graders spent a day with volunteers from Regeneron working together on different projects that really challenged their technology and engineering minds. The first activity taught the principles of Cause/Effect, Forces and Interactions by having the students build their own electromagnets out of wire and batteries. They then tested different variables to see which ones created the strongest magnetic pull.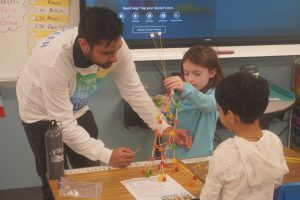 The second activity utilized the story of The Three Little Pigs as a way to teach students about Natural Hazards. Our 3rd graders used different types of candies, pasta and toothpicks to build a tower and try and see which ones were best at withstanding various forces – wind, shaking and The Big Bad Wolf! Thank you to everyone at Regeneron and 3rd grade teachers Jennifer Houbre and Stephanie Stanton for putting together such great projects!
Alexandra Gibson's Library and Media classes got in the STEM spirit this week as well! The Kindergartener's used blocks to build pumpkin holders (and all sorts of other things) while some of the 3rd graders worked together to build beds using popsicle sticks and clothespins. With their STEM skills, they make for a great place for a monster to hide under!
Wednesday, October 25th kicked off Red Ribbon Week here at Menands School. Red Ribbon Week is a nationally celebrated week in response to the tragic death of drug enforcement agent Kiki Camarena. Officially recognized in 1988, it has been celebrated yearly to raise awareness of the dangers of alcohol, tobacco, drugs and violence.
Students and staff have been participating in theme days this week to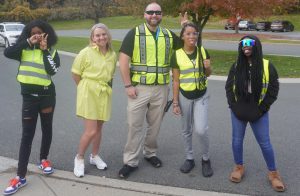 support a healthy and drug-free lifestyle. Wednesday, October 25th was Red Day where we all wore red to support a drug-free life. Thursday, October 26th was Bright Future Day. We wore bright, neon, or sparkly clothes to show our future is bright when we support a drug-free life. Friday, October 27th was Keep the Tiger Spirit Drug Free. Wearing blue and gold showed our school spirit for all Menands Tigers living a healthy and drug free life. Red Ribbon Week continues until Tuesday, October 31st, so look forward to more!
The Menands Cross Country Team finished up their season last week at Parker School! It was a fantastic season with many of our runners getting personal best times of the season to finish strong. We'd like to give a big thank you to our 8th grade team leaders for their leadership this season!
What We're Looking Forward To:
***MENANDS PARENTS AND GUARDIANS!***Tuesday, October 31st is the Menands School Pumpkin Run! The Pumpkin Run is a race that will be completed during school hours on school grounds. Parents and guardians are invited and encouraged to cheer their child on from the sidelines or even run with them in the race! Please click the link to find out everything about this year's Pumpkin Run!***
The Menands School Apparel online store is live! Start your holiday gift shopping soon as the storefront closes November 5th at 11:59 pm. Scan the QR Code to get access to all kinds of Menands Tigers t-shirts, sweatshirts, sweatpants, water bottles, hats and more! Please be courteous of classmates and order before the deadline. Late orders will not be accepted due to tight timelines. Click HERE for the store's link.
The Menands PTA will be holding its annual Fall Festival from 1pm-3pm on November 4th right here at Menands School! Come enjoy games, ice cream, face painting and so much more! It's a great way to celebrate the season with the whole family!
Saturday, October 28th Durham School Services will be having its 3rd annual Haunted Bus and Trunk or Treat. From 3pm-7pm, come to 1 Industry Dr. Waterford, NY where they look forward to scaring you and sharing candy! If you would like to reserve a spot for your trunk, call (518)-237-4514. They are also looking for volunteers to hand out candy and are gladly accepting donations such as donuts, cookies, water, cider, and chocolate.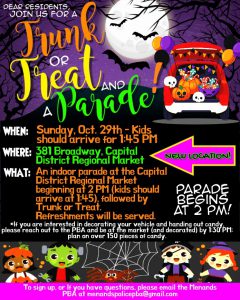 Residents of Menands, the Trunk or Treat and Parade has a new location! On Sunday, October 29th an indoor parade will be held under the enclosed pavilion at the Capital District Regional Market located at 381 Broadway beginning at 2:00 pm (kids should arrive by 1:45 pm). This will be followed by a trunk or treat. Those decorating their cars should be set up and ready to go by 1:30 at the Farmers Market. There is still time to sign up to decorate your trunk by contacting Menandspolicepba@gmail.com. Any questions, contact Community Events Coordinator Meg Grenier at grenierm@villageofmenands.com.
Saturday, November 4th the RPI Engineering Ambassadors Program alongside Albany International Airport will be hosting a community-wide STEM program for the whole family in the MillionAir Hangar. RPI student engineering organizations, researching professors, local science museums and corporate partners will be in attendance with activities for all ages to learn and grow in STEM. Best of all, this is a free event, so come when you can and stay as long as you like!  
The Menands Public Library will be hosting a Diwali celebration on Thursday, November 9th for all the families in Menands! From 5:00 pm-6:30 pm please join in celebrating the Festival of Lights. Refreshments such as cheese pizza, chips, cookies, and juice will be served. For more details, please call (518)-463-4035.  
Important Dates:
Tuesday, October 31st: Menands School Pumpkin Run
Saturday October 28th:  Durham School Services Haunted Bus and Trunk or Treat
Sunday, October 29th: Village of Menands Trunk or Treat and Parade
Saturday, November 4th: Menands PTA Annual Fall Festival
Saturday, November 4th: RPI Engineering Ambassadors Program STEM Program
Thursday, November 9th: Menands Public Library Diwali Celebration