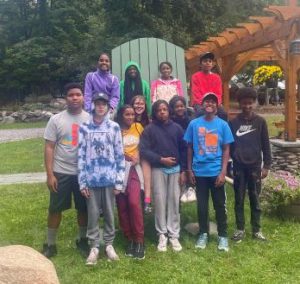 Rain fell in a light drizzle, puddles formed at the edges of the basketball court, and gray clouds hung low over Lake George, blocking the view across the water to the mountains in the distance. The 8th graders of Menands School were spending the late morning of their second day at Camp Chingachgook under a pavilion by the edge of the lake, wrapped tight in brightly colored ponchos, as Lorenz Herrmann, science teacher and Co-Director of the Outdoor Education Program, explained the geological history of the area. Unable to fully explore the campgrounds, the students then moved on to playing Jenga at the picnic tables and the cooperative party game "Mafia", working together to discover the "killer" among the group.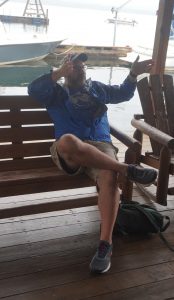 But the weather only acted as an emphasis for why Menands School takes this annual trip to Camp Chingachgook each year. Though archery, hiking, games, and campfires provide the source of fun and excitement throughout the week, the trip's main purpose is to form a bond between the 8th graders at this specific time. They are at the beginning of their final year here at Menands, about to head off to high school, and three days in the outdoors together helps start to build a school community that will last with them throughout the school year and even beyond.
Mr. Herrmann, who has been organizing and participating in this trip 25 out of his 26 years working at Menands (the one off year being when COVID prevented the school from going), sees firsthand the impact three days at Camp Chingachgook has throughout the school year.
"The kids build really good connections with each other," he says. 
He's had parents tell him about sons and daughters coming home who cannot stop talking about everything they did. It's common for him to see a group of students struggling with something in class and by prompting them with, "Remember when we were at camp?" they're reminded of an activity they worked on together at Chingachgook and they use those skills to get through the task.
"It is not an isolated event," Mr. Herrmann says. "This trip is a touchstone that sets off the rest of the year."
Looking to the Future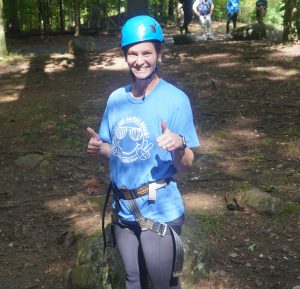 Shirah Bettinger, a Physical Education and Health teacher for nine years at Menands, is in her sixth year as the Co-Director of the Outdoor Education Program. For her, the unifying experience of the Camp Chingachgook trip is undeniable.
"It's a fun interaction in their 8th grade year to be able to communicate and become a group." She says that once the students are back in the classroom their approach towards cooperation and teamwork is different than before. They have an understanding of its importance and where they can utilize it in day to day challenges.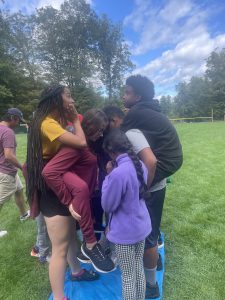 The trip to Camp Chingachgook is a privilege reserved for the oldest students here at Menands, those about to enter high school and become a part of a different environment than they are used to. The students on the trip are allowed more freedom during these three days than in a traditional classroom setting. They are given the choice of activities they wish to participate in and allowed more responsibility in how they want to spend their free time, all in preparation for the independence that high school, and life beyond, will afford them.
Mrs. Bettinger also understands how the interaction with themselves and the students is changed. "They see us as a different person," she says, referring to the less rigid educational structure of the trip. "They see us as more of a person, not just as a teacher. This creates more respect throughout the school year, a big difference from those who didn't go." 
And those who cannot attend are truly missed by their classmates. It's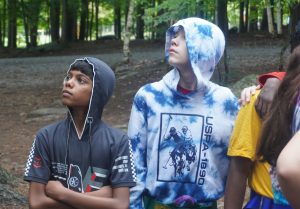 unfortunate not only because of the bonding and community building that goes on during the trip, but those who miss out risk distancing themselves from their classmates early on in the school year. The chance to be outdoors, share a cabin, have a bunkmate, is one that is rare for our students and makes an impression that is definitive and long lasting. At the very least, those who are unable to attend are left without the opportunity to push themselves in different ways and to make new friends with those who they weren't close with before.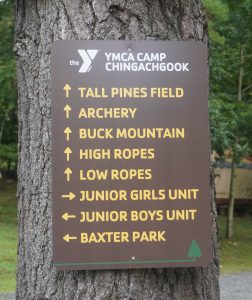 Varah Prabhun, age 13, was most excited to tackle the high ropes course and was highly engaged when they were working on their teamwork skills, but it's the other kids he's with that has provided the real joy. "Even the classmates that I didn't talk to much, I see them as friends now." He remembers hearing previous 8th graders years before talking about the trip and how excited it made him to go.
Mikayal Brice, age 13, talked about playing games requiring team strategies and how they needed to figure out a solution without arguing. Cyrus Smith, age 12, was looking forward to the zip line, but said he was "even having fun in the cabins, getting to know everybody better than before." Ashvin Saravanan, age 12, a new student to Menands from India, had never done anything like this before, but found himself enjoying the challenges of being outdoors all while getting to know his fellow classmates.
A Hard Day Won

Back in the pavilion, the rainy skies did nothing to dampen the students' spirits. They each wore triumphant smiles, having just taken on the rock climbing wall, daring to ascend as high as 75 feet despite the not-so-perfect climbing conditions. Students normally more quiet and reserved were boasting to their classmates about how fast they had reached the top. Others, who had been hesitant at first to make an attempt at the wall, sat tall and proud, having proved to themselves what they could accomplish with their newfound confidence along with the encouragement of their classmates.
After lunch, the 8th graders are looking forward to taking on the high ropes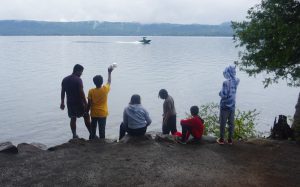 course. The various aerial obstacles will leave them dangling high above the ground, believing the next rope is out of their reach, until the helpful shouts from their fellow classmates below reach them and they are able to push through. Confidence, perseverance, teamwork, cooperation. That is what this trip is building. It doesn't matter if the weather isn't perfect or if things aren't going exactly the way we want them. We'll figure it out and keep moving forward.
"What rain?" Will be what the kids are saying, Mr. Herrmann predicts, when they are back at Menands, talking all about the fun and adventures they had together at Camp Chingachgook.
CLICK HERE and Join Us On a Brief Tour of Camp Chingachgook!