Welcome to Tiger Tales, Menands! Here is where we will be telling you all about what has been going on this past week here at Menands School, what is coming up, and all the important dates you need to know.
Tiger Tales of the Week:
We are very excited to announce a new tradition here at Menands, our Tiger Teacher of the Month and Tiger Cubs of the Month! 
For the month of September we are very proud to award Tiger Teacher of the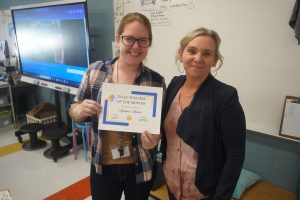 Month to Stephanie Stanton! Mrs. Stanton was nominated by her fellow teachers for going out of her way to make sure everyone feels like a part of the community with her mentorship of two new teachers here at school as well as a student teacher. Congratulations Mrs. Stanton!
And for the Tiger Cubs of the Month for September we are happy to announce winners Dhyani Raval and Mathews Munga! Dhyani is one of the newest members of our Menands community and has been nothing but kind and respectful as she adapts to the change. Mathews is a student who though he has faced some changes in his school environment, he has been taking it all in stride. No matter what, he makes sure to say hello to everyone he sees and spends a lot of his day brightening up all the people he interacts with. A big congratulations to our Tiger Cubs of the Month!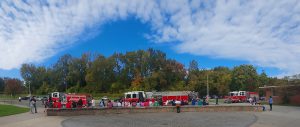 This past week has been Fire Prevention Week! The Menands Fire Department visited Menands School to educate our students on fire safety, show us their gear, and spoke about what to do during a fire. The kids were eager and enthusiastic to learn and, of course, the highlight of the day was being able to explore the fire trucks. We believe we have some future firefighters right here at Menands! You might even see Officer Stone, Principal Wylie or Superintendent Cannavo climbing some ladders soon. Check out our great, educational day HERE.
Our annual Create a Character Pumpkin Contest is back, Menands! It's that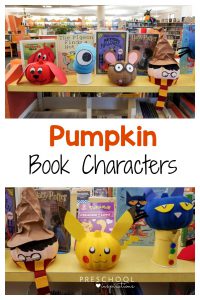 time of year to turn a pumpkin into your favorite book character. Use paint, use markers, use fabric, buttons, yarn. Use anything you like! Just make sure you create the best pumpkin character you can and the students will then take a vote and announce a winner for each grade level. Please do not send in any carved pumpkins, as they will not be accepted. 
What We're Looking Forward To:
Tuesday, October 31st is the Menands School Pumpkin Run! The Pumpkin Run is a race that will be completed during school hours on school grounds. Parents and guardians are invited and encouraged to cheer their child on from the sidelines or even run with them in the race! 
The Menands Village Fall Harvest Festival will be held Saturday, October 21st at Ganser-Smith Memorial Park (53 Menands Rd, Menands, NY). From 12:00 pm – 3:00 pm come and enjoy crafts, vendors, local farmers, live music, food and beverages. From 12:30 pm – 1:30 pm the Menands Public Library will be hosting story time. Admission and parking is FREE. For more information, contact Village of Menands Community Events Coordinator, Meg Greiner at greinerm@villageofmenands.com.
Residents of Menands, please join us for Trunk or Treat and Parade! On Sunday, October 29th a parade escorted by the Police and Fire Departments will begin at the Menands Fire Department and end at the Ganser-Smith Memorial Park where we will have our second ever Trunk or Treat! The parade begins at  To sign up, or if you have questions, please email the Menands PBA at menandspolicepba@gmail.com. 
Saturday, November 4th the RPI Engineering  Ambassadors Program alongside Albany International Airport will be hosting a community-wide STEM program for the whole family in the MillionAir Hangar. RPI student engineering organizations, researching professors, local science museums and corporate partners will be in attendance with activities for all ages to learn and grow in STEM. Best of all, this is a free event, so come when you can and stay as long as you like!  
Important Dates and Reminders:
Monday, October 16th is Picture Day.
Have a great weekend, Menands!