Friday is Here, Menands! 
It has been a great week at school with a lot going on and a lot more coming up. Let's check it out!
This Past Week…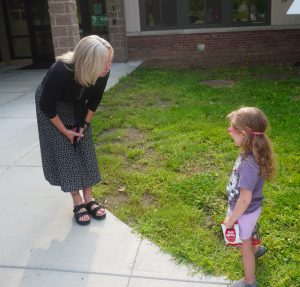 October is National Principal Appreciation Month! All month long we will be honoring Kathleen Wylie and how she has fulfilled the role by pairing profound insight into education with enthusiasm towards reaching every single student. We here at Menands are lucky to have her as part of our community. Please go back and check out Mrs. Wylie's introduction to learn more about her background and her approach to learning.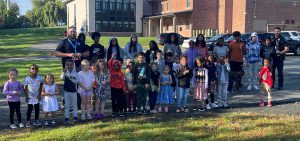 Blast off! Students in Mr. Nagel's first period tech class built rockets and were ready for launch when they decided to invite Mrs. Maldonado and Mrs. Passaro's Kindergarten classes to assist in the countdown. The kindergarten students were in the middle of studying force and motion during their science unit, so they were the just the experts needed for the mission.
Friday, October 6th was a Superintendent's Conference Day here at Menands. While students enjoyed the day off, our faculty and staff came together to engage one another in passionate discussions on how to improve Menands School everywhere from inside the District Offices to the heart of the classroom. We analyzed Menands School data compared to that across the state, confronted bias' in order to make us a more inclusive place for learning, and shared ways we have learned on how to build a bigger and better community within the school.
Things to Look Forward To:
Next week, Menands School will be announcing its first ever Tiger Teacher of the Month and Tiger Cubs of the Month. One teacher and select students will be acknowledged for their dedication to building community at the beginning of the school year by welcoming in those who may be new to their position, the school or Menands itself. Be sure to keep an eye out on our Facebook and Instagram pages for the announcement.  
Tuesday, October 10th there will be a Village of Menands Fire Department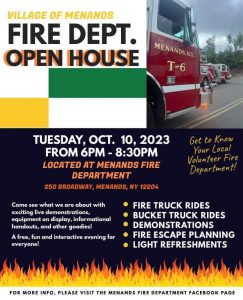 Open House! Get to know your local volunteer fire department from 6:00 pm to 8:30 pm with live demonstrations, equipment on display, informational handouts and other goodies. It will be a free, fun and interactive evening for everyone!
The Menands Village Fall Harvest Festival will be held Saturday, October 21st at Ganser-Smith Memorial Park (53 Menands Rd, Menands, NY). From 12:00 pm – 3:00 pm come and enjoy crafts, vendors, local farmers, live music, food and beverages. From 12:30 pm – 1:30 pm the Menands Public Library will be hosting story time. Admission and parking is FREE. For more information, contact Village of Menands Community Events Coordinator, Meg Greiner at greinerm@villageofmenands.com.
Residents of Menands, please join us for Trunk or Treat and Parade! On Sunday, October 29th a parade escorted by the Police and Fire Departments will begin at the Menands Fire Department and end at the Ganser-Smith Memorial Park where we will have our second ever Trunk or Treat! The parade begins at  To sign up, or if you have questions, please email the Menands PBA at menandspolicepba@gmail.com. 
Saturday, November 4th the RPI Engineering  Ambassadors Program alongside Albany International Airport will be hosting a community-wide STEM program for the whole family in the MillionAir Hangar. RPI student engineering organizations, researching professors, local science museums and corporate partners will be in attendance with activities for all ages to learn and grow in STEM. Best of all, this is a free event, so come when you can and stay as long as you like!  
Important Dates and Reminders:
Monday, October 9th there is NO SCHOOL in honor of Columbus Day and in recognition of Indigenous People's Day.
Tuesday, October 10th the Board of Education will be meeting at 6:30 pm in the library. All board meetings are open to the public. The Meeting Agenda will be available on BoardDocs (a livestream link will be available the day of the meeting). For more information on the Board of Education, please visit our website.