With the selection of Jennifer Cannavo for the role of superintendent, the Menands School Board of Education has unanimously appointed Kathleen Wylie to succeed her in the role of principal, effective July 1st, 2023.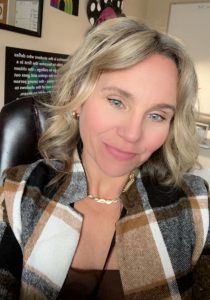 The board made this official on Monday, May 8th at the 6:30pm Board of Education meeting with district administrators gathered to celebrate this great honor with Mrs. Wylie.
The district is fortunate to be adding a member of the administrative team that is as eager and accomplished as Mrs. Wylie. She will be stepping into a leadership position that is essential in bringing our students through a critical time in their academic careers.
"I am so grateful for the opportunity to become part of the unique and exceptional community of Menands," said Mrs. Wylie. "As a principal, I plan to join this community wholeheartedly in order to help advance the hopes, dreams and goals of the students, families, staff and district. My daily mission will be to support students, families and staff to feel like they belong, that the work we do is meaningful and that, together, our young people can find success."
Board president William Nevins said of Mrs. Wylie's appointment: "Mrs. Wylie was selected from a group of highly qualified applicants. Her expertise and experiences align tremendously with the vision and mission of our district. She will be a valuable addition to our school community; she is well positioned to join our leadership team and advance the efforts outlined in our Strategic Plan. I wish to thank all the members of the community who contributed to the survey and shared what they were looking for in our next principal, as well as the individuals from various constituent groups who participated as part of the Interview Committee."
Kathleen Wylie, who grew up in Albany, New York, is the daughter of a teacher with her father having taught in area schools for fifty years. Following in this line of work, Mrs. Wylie graduated from SUNY Albany in 1998 with a Bachelor's Degree in History, and in 1999 with a Masters in Teaching Reading. She began her teaching career that same year in Fort Plains, New York. From there, she went on to teach Social Studies for 16 years, with the majority of her work taking place in her own community of Schenectady. In 2018, she was awarded Teacher of the Year at Schenectady Schools as a middle school teacher.
In 2021, Mrs. Wylie became an assistant principal at Schenectady High School and in 2022 was appointed Principal of the Visual and Performing Arts Community at Schenectady High School. She was an Instructional Coach for grades K-12 for two years, a certified Building Leader since 2020, and has been a certified consultant for Responsive Classroom since 2016. 
It is with this experience that Mrs. Wylie has received the full support of the current Menands School administrative leadership. "I look forward to Mrs. Wylie joining our school community this summer," incoming Superintendent Mrs. Cannavo said. "She has a strong track record of inspiring students to achieve their full potential, improving student outcomes, and promoting a positive school culture. She is highly committed to creating a safe and inclusive learning environment where all students feel valued and supported. With her background and dedication to education, I am confident Mrs. Wylie will lead our school with vision, compassion and an unwavering commitment to our students, staff and families."
"I am so incredibly happy that Mrs. Wylie will be joining the Menands School Community!" said outgoing Superintendent Dr. Maureen Long. "Her experiences, coupled with her enthusiasm and desire to help all students succeed as part of a dedicated team, will serve our students well!"
Mrs. Wiley has been married to her husband, Nathaniel, a school social worker at Schenectady Schools, for 21 years. Together, they have three children. The oldest, Nathaniel Jr., is currently studying to be in law enforcement. Their middle son, Noah, will be graduating in June and plans on studying psychology in college. And their youngest, Mia Rose, is currently a junior in high school and plans on following in her mother's educational footsteps with plans to become an English teacher.
Mrs. Wylie's dedication to student improvement has never been limited to only the classroom. She has been a girls basketball coach for nearly 20 years, and in 1996 co-founded the Albany Junior Lady Falcons Youth Girls Basketball program. She has coached at all levels, from 5 year olds learning the basic skills of the game all the way to varsity high school girls honing their skills for the collegiate level.  
Though her official start date is July 1st, 2023, Mrs. Wylie will be preparing for this role before then by staying in communication with Mrs. Cannavo and Dr. Long, while also seeking opportunities to get to know the community. She encourages families to be aware of upcoming event announcements for those that she will be personally attending.
Nelson Mandela once said, "Education is the most powerful weapon which you can use to change the world." As a favorite quote of Mrs. Wylie's, she has embraced that idea throughout her career and will continue to do so during her time with the Menands School District. Her passions around education come from both professional experiences as well as her own personal life. Drawing inspiration from her father, she was able to witness the impact he had on so many lives in truly powerful ways, filling her with a belief that there could be no better way to spend your life.
With the desire to be a worthy role model for her children in order to show them an example of a driven, passionate, kind and intelligent woman, Kathleen Wylie is set to represent the Menands School District as a capable and confident leader. With a shared vision for the future with the current administration, Mrs. Wylie's transition into the principal role will be seamless in continuing the mission of this district. The students, families, faculty and the community at large have the privilege of looking to Mrs. Wylie in the coming years for the guidance required in creating a thriving educational environment.