It's the day Menands School starts its annual end of the year alphabet countdown. Follow our calendar from A to Z and join in the fun as we make our way to the last day of school. 
Today is ART DAY! We hope you join us at Menands School at 6:00 p.m. for The Evening of the Arts where we will shine the spotlight on the artistic talents of our students.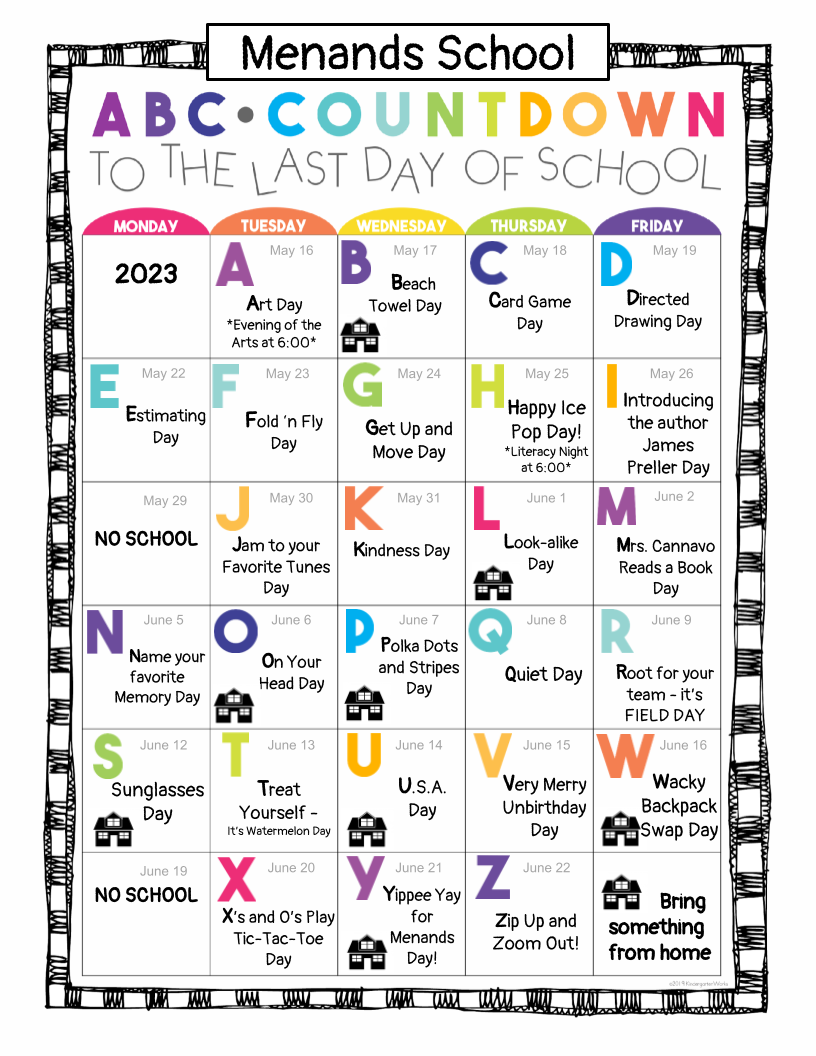 A

DATE: 5/16

EVENT:
Art Day → Help create a school wide art piece and then join us for Evening of the Arts at 6:00 pm
B
DATE:
5/17
EVENT:
Beach Towel Day → Bring your beach towel to school to sit on during the day while you work and dream of summer!
C
DATE:
5/18
EVENT:
Card Game Day → Play card games with your classmates
D
DATE:
5/19
Directed Drawing Day → Follow step by step directions to create a fun drawing
E
DATE:
5/22
EVENT: Estimating Day → Use your estimation skills and maybe win a prize for your class!
F
DATE:
5/23
EVENT: Fold 'n Fly Day → Make a paper airplane in class
G
DATE:
5/24
EVENT: Get Up and Move Day → Take a break and move your body to relax or have fun
H
DATE:
5/25
EVENT: Happy Ice Pop Day → Enjoy an ice pop from the PTA (thanks PTA!)
and don't forget to join us for Literacy Night at 6:00 pm
I
DATE:
5/26
EVENT: Introducing James Preller Day → Help us welcome James Preller to Menands School 
(DATE: 5/29
MEMORIAL DAY HOLIDAY → No School)
J
DATE:
5/30
EVENT: Jam to your Favorite Tunes Day → Listen to music with your class
K
DATE:
5/31
EVENT: Kindness Day → Spread kindness wherever you go
L
DATE:
6/1
EVENT: Look-alike Day → Find a friend and dress as twins for the day
M
DATE:
6/2
EVENT: Mrs. Cannavo Reads a Book Day → Enjoy a story with Mrs. Cannavo
N
DATE:
6/5
EVENT: Name Your Favorite Memory Day → Share your favorite memories of the school year.  Don't forget to share your memories about Dr. Long, Mrs. Ford, and Mrs. Sposito so we can wish them well in retirement. 
O
DATE:
6/6
EVENT: On Your Head Day → Wear your favorite hat, headband, or crown
P
DATE:
6/7
EVENT: Polka Dots and Stripes Day → Wear your most mismatched outfit
Q
DATE:
6/8
EVENT: Quiet Day → Take some time to be mindful or read/draw quietly
R
DATE:
6/9
EVENT: Root for your Team it's Field Day! 
S
DATE:
6/12
EVENT: Sunglasses Day → Come to school with your coolest pair of shades
T
DATE:
6/13
EVENT: Treat Yourself – It's Watermelon Day! → Enjoy watermelon at lunch
U
DATE:
6/14
EVENT: U.S.A. Day → Wear red, white, and blue to celebrate Flag Day
V
DATE:
6/15
EVENT: Very Merry Unbirthday Day → Celebrate summer birthdays in your classroom
W
DATE:
6/16
EVENT: Wacky Backpack Swap Day → Be creative and use anything but a backpack to carry your things to and from school
(DATE:
6/19
JUNETEENTH → No School)
X
DATE:
6/20
EVENT: X's and O's Play Tic Tac Toe Day → Have some fun and play Tic Tac Toe today
Y
DATE:
6/21
EVENT: Yippee Yay for Menands Day → Wear blue, gold, or school apparel 
Z
DATE:
6/22
EVENT: Zip Up and Zoom Out! → It's our last day, so zip up your backpack and zoom out of school!