It's that time of year to give thanks to those you are grateful for. We here at Menands are so thankful to everyone who helps out, donates their time, and works hard to make this school better. And this week was all about that!
Tiger Tales of the Week:
Our 8th graders have enhanced the way Responsive Classroom's Advisory Meeting is taking place here at Menands! Instead of community building activities in their own classrooms, they have been visiting the younger students to help them out wherever they can. Whether it's with classwork, crafts, recess or clean-up, our oldest students are setting an example for the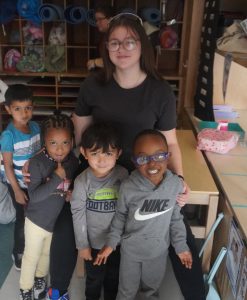 rest of the school on how to tighten our community and lend a helping hand to each other. Please read our article HERE about how this approach to advisory benefits both the students and the school as a whole. Check out more pictures HERE.
Thursday, November 16th, meteorologist "Radar" Reid Kisselback visited our 3rd grade classrooms. "Radar" Reid spoke about his typical day at the news station, different types of weather events, and quizzed the students on some meteorological trivia. Do you know which is more dangerous, freezing rain or sleet? How about which comes first in a storm, lightning or thunder? If you're stumped, ask a Menands 3rd grader and they'll be sure to tell you!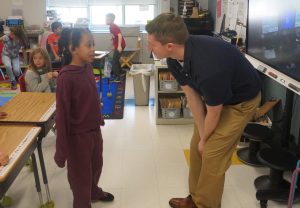 After showing us a quick experiment that had us creating a cloud right there in the classroom, Mr. Kisselback took a group photo that he then broadcast on his 12:00 pm weather report the next day. Check out our television debut right HERE. A big thank you to Reid Kisselback for coming to our school and a huge thank you to Stephanie Stanton and Jennifer Houbre who arranged it all for our 3rd graders. CLICK HERE for all the photos of the visit!
Menands came down with the competitive bug this week in gym class. P.E. teachers Ryan Ahl and Shirah Bettinger had the students stacking cups to see who could go the highest, balance the most on their hand, and see who could do it the fastest. There may be some future world record holders here at Menands School, so check them out right HERE.
A new Story Walk has arrived! Come explore the Story Walk trail to read our new book, Little Fox in the Snow, by Jonathan London. Follow Little Fox on his journey through the snowy woods. Who will he encounter on his walk? What mischief will he get into?  Find out this weekend and tell us what you think!
What We're Looking Forward To:
The Elks Club Hoop Shoot Event will be taking place on Saturday, November 18th at the Watervliet Dome located at 1300 2nd Ave, Watervliet, NY – 12189. Signup begins at 9:00 am and the shootout begins at 9:30 am. The Menands students who will be participating are:
Ages 8-9:
Girls: Dream Maye and Mysam Gomri 

Boys: Lason Keith and Declan Hoffman
Ages 10-11
Girls: Jaelani King and Ah'xyla Smith

Boys: Pierre Seraphin and Andy Ouedraogo
Age 12-13
Girls: Elise Barden and Milan Perry

Boys: Prateek Chinni and Varun Prabhu
Everyone is encouraged to go and cheer on our students. All the information about the event can be found HERE.
Saturday, November 18th, our Girls on the Run team will participate in our 5k celebration. Come out and support our girls at Jennings Landings in Albany! The celebration begins at 8:30 am and the 5k begins at 10:00am. Our girls have worked incredibly hard this season, not just on running, but on their physical and mental health, while building lifelong skills on how to advocate for themselves and how to make meaningful friendships. Register HERE to be a community runner, but there is no pressure to run. We focus on moving forward in whatever way works best for your personal physical health and wellness.
The Menands School PTA is holding their annual indoor yard sale at the school gymnasium on Saturday, November 18th from 10am-2pm. They will be accepting yard sale donations Friday, November 17th between 12pm-6pm. We are still looking for volunteers to help with this event, volunteers signup link: https://www.signupgenius.com/go/4090D48AEAB29AAFA7-45795404-ptayard
The Menands School PTA is offering wreaths and poinsettias for sale this November. Decorate your door with a winter wreath from George's Nursery. Order deadline is November 21st and items can be picked up from the school on Wednesday, November 29th from 3:30-5:30pm. Place your order online at: https://menandsschool.memberhub.com/store
Make-up picture day is scheduled for December 1st, 2023. If your student was absent, newly enrolled, or not happy with their first picture we invite you to attend the picture make-up day. A reminder will be sent out on Monday, November 27th, but click HERE for all the information about make-up day, ordering, and payment.
Important Dates:
Friday, November 17th: Menands School PTA Accepting Donations for Yard Sale
Saturday, November 18h: The Elks Club Hoop Shoot Event 

Saturday, November 18th: Girls on the Run 5k Celebration
Saturday, November 18th: Menands School PTA Indoor Yard Sale
Tuesday, November 21st: PTA Poinsettias Order Deadline
Wednesday, November 22nd – Friday, November 24th: NO SCHOOL – THANKSGIVING BREAK
Friday, December 1st: Picture Day Make-Up