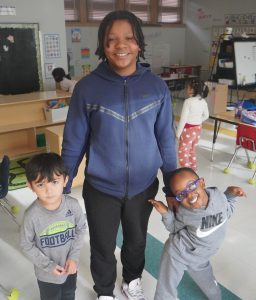 The 8th grade class here at Menands has been participating in Responsive Classroom's Advisory Meeting in their own unique way this school year. In order to foster deeper community interactions and expand their independent responsibilities, the 8th graders have been spending time in the younger students' classrooms in order to help their teachers in any way they can. 
As a Responsive Classroom School, we here at Menands take part in Advisory Meeting each day. With most students, it includes classroom announcements and an activity that focuses on the specified purpose of the meeting. The 8th grade students are branching out from that model in preparation for them entering high school next year. Their communities will be expanding and there will be increased independence at the high school level. The responsibility of assisting different classrooms throughout the school has been an important developmental tool in guiding them forward to their next levels of education and leadership. 
"One of the responsibilities is making sure we get there on time and that we leave on time to get back to our own classes," says Varun Prabhu. "That's something we're going to have to do a lot of in high school."
Each afternoon, our oldest students make their way to some of our youngest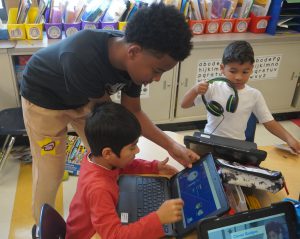 to offer their time, assistance and experience. Though they follow the teachers' instructions, it is up to them to have a working knowledge of what is going on in the classroom at that particular time, and be able to anticipate where their help will be needed
"When I was in first grade, we did everything on paper, maybe go to the computer lab," remembers Prabhu. "But students use technology for all of their classwork. And I'm able to help them with that."
One of the biggest rewards of the in-classroom advisory is how it tightens our school community. Though Menands is a small school, there are different groups of students and teachers that don't often have the opportunity to interact during the day. Our 8th graders are closing these gaps with their daily classroom visits.
"The students I work with now come up to me in the hallway when we pass by and give me a hug," says Kendell Rose, an 8th grader currently working in the Pre-K students. "In the classroom, they feel comfortable coming to me to help them with different activities."
And with these connections comes mentorship. New role models. A trusting relationship for the younger students to depend on throughout the year.
"We show them what it is going to be like when they get older," says Rose. "We have experiences we can share that even the teachers don't have."
Because the 8th graders are the reason for the connections between different populations of the school, they are instilled with a sense of leadership. They are able to recognize themselves as role models for the younger students. While working in the classroom, they become a person that a student looks to for guidance.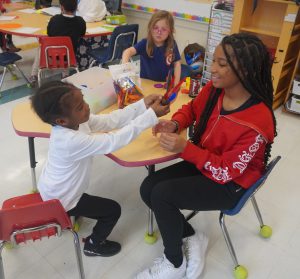 "I really feel like a role model," says Mikayla Brice, a student assisting in one of the kindergarten classrooms. "When something happens in the classroom, the students look to see how I react before they do anything."
In the coming years, Principal Kathleen Wylie looks to grow the 8th grade advisory program to partner with even more teachers and create more opportunities for the students.
"I plan on expanding the leadership program with teachers in order to practice skills like resume writing and interviewing while also having the students engage in many different service opportunities to learn more about leadership, community service and career skills," Principal Wylie says.
As for now, Menands is proud and grateful to have their oldest students in the position to be the leaders of the student population while making strides to strengthen the community we value so much here. It will encourage others to follow along, to take a sense of pride and responsibility for their own education, and allow that to flow through the student body for years to come.