We're moving right through November and before we know it the holiday season will be on us! There's been a lot going on here at Menands, a lot more coming up, and Tiger Tales has it all. Let's jump in!
Tiger Tales of the Week:
This past Tuesday, November 7th and Wednesday November 8th P.E. teachers Ryan Ahl and Shirah Bettinger arranged for The Albany FireWolves to come here to Menands and have a fun couple of days teaching the game of lacrosse to our students. The FireWolves are a professional box lacrosse team based out of the MVP Arena in Albany and it is part of their "Grow the Game" initiative that has them come to local schools like ours to pass on their expertise. Check out the photos and videos HERE of the FireWolves showing our students the ropes (and hopefully the backs of the nets). 
And because these are professional athletes, they were able to pull double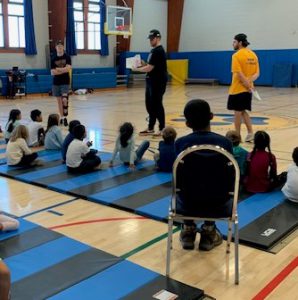 duty while here! Students in our K-2 classes took part in "Alphie's Reading Program" where members of the team read to the students, a perfect accompaniment to our Ronald McDonald House Read-A-Thon program.
The PTA Fall Festival was a huge success this past Saturday! The Menands PTA hosted its annual Fall Festival right here at the school and oh boy did we have a lot of fun with the soccer dartboard and the basketball hoops. Ryan Gottcent and Michele Ervin painted faces while the rest of us painted pumpkins! Even Superintendent Cannavo got in on the art-action! There were so many different kinds of games and activities like tic-tac-toe and connect four for everyone to enjoy. And to make sure our sweet tooth wasn't left out there was plenty of ice cream and cotton candy to go around. Thank you to the Menands PTA for putting on such a great event for everyone, we really appreciate it! Check out all of the photos from the day HERE.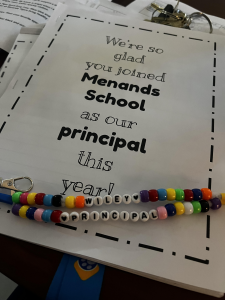 Kerry Wroblewski and Stephanie Stanton were in the spirit of our Ronald McDonald Read-A-Thon very early this year! All the way back on October 30th, they hosted Principal Wylie for a read aloud in their classroom. Our Kindergartener's were treated to Kamala and Maya's Big Idea by Meena Harris, illustrated by Ana Ramirez Gonzalez. The book focuses on perseverance and teamwork as the girls work together as a team to get a new playground built for the community. It reminds us of our school mantra this year: "Alone we can do so little; together we can do so much." 
And what goes hand in hand with reading? Writing of course! The Kindergartener's then presented Principal Wylie with two books they had written themselves, along with a beautiful bracelet, that welcomed her to the Menands team! A perfect way to wrap up our Principal Appreciation Month and begin our Read-A-Thon!
The Menands Public Library will be hosting a Diwali celebration today Thursday, November 9th for all the families in Menands! From 5:00 pm-6:30 pm please join in celebrating the Festival of Lights. Refreshments such as cheese pizza, chips, cookies, and juice will be served. For more details, please call (518)-463-4035.  
What We're Looking Forward To:
There will be a Board of Education meeting on Monday, November 13th. The meeting will be held in the library in addition to being live streamed. All recordings, agendas and minutes can be found on the district's online portal, BoardDocs.
Next Saturday, November 18th, our Girls on the Run team will participate in our 5k celebration. Come out and support our girls at Jennings Landings in Albany! The celebration begins at 8:30 am and the 5k begins at 10:00am. Our girls have worked incredibly hard this season, not just on running, but on their physical and mental health, while building lifelong skills on how to advocate for themselves and how to make meaningful friendships. Register HERE to be a community runner, but there is no pressure to run. We focus on moving forward in whatever way works best for your personal physical health and wellness.
On Friday, November 17th the 7th graders will be holding a bake sale to raise money for their trip to Camp Chingachgook in the fall. On your way or after your parent/teacher conferences you can buy some delicious baked goods. All money raised will go directly to their camp fund.  They can only accept cash or checks! Please click HERE to read about this year's past trip and find out how important it is to our students.
The countdown to Drama Club begins next Wednesday, November 15th! Each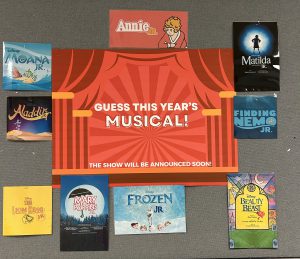 day we will be removing one show from the board until we finally reveal what this year's musical will be! Can anybody guess the show? Annie, Matilda, Moana, Finding Nemo, Aladdin, The Lion King, Mary Poppins, Frozen or Beauty and the Beast. Keep reading Tiger Tales to find out! 
The Menands School PTA is offering wreaths and poinsettias for sale this November. Decorate your door with a winter wreath from George's Nursery. Order deadline is November 21st and items can be picked up from the school on Wednesday, November 29th from 3:30-5:30pm. Place your order online at: https://menandsschool.memberhub.com/store
The Menands School PTA is holding their annual indoor yard sale at the school gymnasium on Saturday, November 18th from 10am-2pm. We will be accepting yard sale donations Friday, November 17th between 12pm-6pm. We are still looking for volunteers to help with this event, volunteers signup link: https://www.signupgenius.com/go/4090D48AEAB29AAFA7-45795404-ptayard
Important Dates:
Thursday, November 9th: Menands Public Library Diwali Celebration
Thursday, November 9th: End of quarter one for grades 5-8.
Friday, November 10th: No School for Veterans Day
Friday, November 17th: Parent Teacher Conferences, early dismissal at 11:20 (PK Dismissal is 10:50)