Red Ribbon Week at Menands School: October 25 to October 31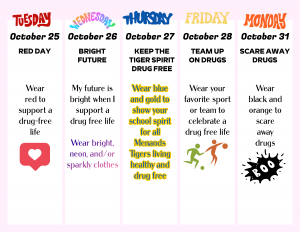 Red Ribbon is a nationally recognized week to raise awareness of the dangers of alcohol, tobacco, drugs, and violence. The advocacy is in response to the tragic death of a drug enforcement agent named Kiki Camarena.
Menands Union Free School District annually supports this drug-abuse prevention campaign. Students and staff are encouraged to participate and dress according to the theme days to promote a healthy and drug free lifestyle.
Together we can provide a united effort to maintain a drug free school and community!