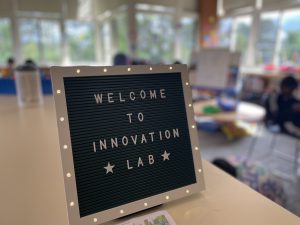 "We are incredibly excited that some opportunities with staffing and schedules have allowed us the flexibility to bring this tremendous opportunity to incorporate 21st century real world STEAM skills," said Superintendent Long. "We are so appreciative to our neighbors in North Colonie who shared with us their prior work in this regard, and assisted us in getting the pilot up and running."
Innovation Lab Exploration for Grades K-6
Menands has reimagined library time for students in Kindergarten through sixth grade. Through a new pilot program, our existing media center is merged with opportunities that incorporate science, technology, engineering, the arts, and math. The Innovation Lab will lay a foundation of skills for students to be successful innovators.
Throughout the school year, students will learn about modern day careers in the STEAM fields and understand how science is part of our everyday lives.
Planning a Project and Time Management
What materials will you use? What will you build or make? How will you explore? Did it work out the first time or did the plan need to be adjusted to get the desired outcome? Hands-on learning empowers students to explore and answer their own questions.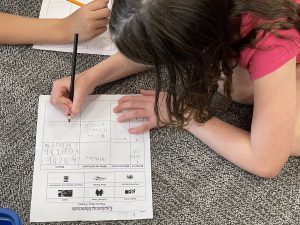 Students follow a design process many engineers use:
ask

imagine

plan

create

experiment

redesign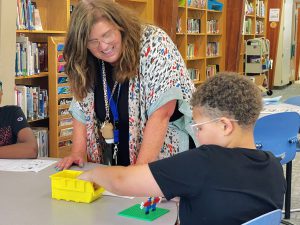 In her 33rd year as an educator in the district, Nancy Sposito has transformed the library media center into an inclusive and encouraging space. Mrs. Sposito uses literature to launch process-based activities where students are the architects of their own ideas. They plan, create, and then reflect on the details of their experiences. This creative outlet has students eager to try new things and learn more about themselves. On the first day of school, Mrs. Sposito said most students worked independently, but as time has gone on, they have started collaborating more on projects with classmates.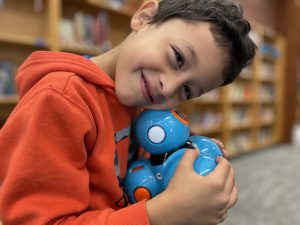 "I am absolutely thrilled to be given the opportunity to pilot this new position," said Mrs. Sposito. She explains how this vision evolved into what it is today. "Several years ago we purchased Dash Robots from a grant we received from Stewart's Shops. The robots provided a perfect opportunity to incorporate technology into my second grade classroom. Ms. Trainor and I then started STEM Friday where we had the entire second grade doing STEM projects every week. Last year, Miss. McQuade and I started an afterschool STEM Club for the third and fourth graders. This year, I am so fortunate to have the chance to teach some of my former students and work with all the students in kindergarten through sixth grade. Each and every day I come to school excited to see what creative designs the students will make!"
Respect and Responsibility
Build it… break it down… rethink ideas… and clean it up
Students learn to be responsible for themselves and their ideas, and courteous of others, and to have respect for the resources they use for their designs. Mrs. Sposito incorporates "I can statements" before every class.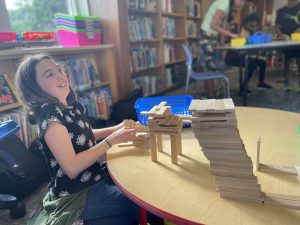 Students learn that they can:
create original and innovative designs
try my best on all tasks
use all materials the correct way
work cooperatively with my teammates
be flexible if my designs flop
be focused and engaged with the tasks
respectful our tools and materials 
Building Confidence and Contributing Talents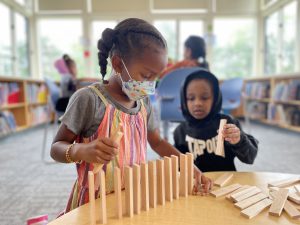 The lab time creates a path for student-centered learning where they can identify the strengths that make them unique. Students will engage in projects that will get more challenging as the year goes on which will contribute to their academic growth and social development. 
The process of exploration and discovery allows students to demonstrate their understanding of a topic. They get to display what they know in a personalized way. The experiments help students to figure out how their mind works. It also helps them understand that people have different ways of doing things, and what works for them may not work for others, and that is ok. 
Problem Solving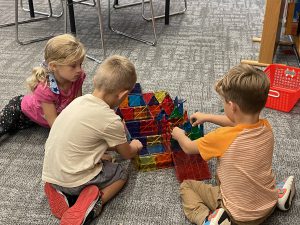 With each experiment, students are understanding that such as life, every opportunity is what you make of it. 
While one second grader started getting frustrated because they could not find more square magnet blocks to complete a house they were constructing, his partner discovered a solution. "I got an idea," she exclaimed as she picked up a small triangle and held it in the air. The boy looked at her and she grabbed another triangle and snapped them together. She smiled and said, "We could use two of these to make a square". The students were then able to create the house they envisioned. 
Power of Interdisciplinary Learning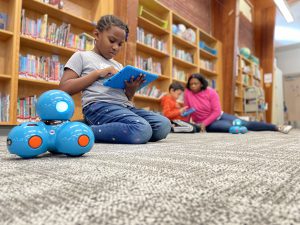 Mrs. Sposito will be working with classroom teachers to design cross-curricular projects that can be done throughout the year. This will engage students to get more in depth about a particular topic. Connecting her students with Capital Region businesses and trade specialists will open up a world of possibilities. 
Later this month, our students will be immersed in the scientific thinking process when BioBus parks outside Menands school. BioBus is a mobile science lab that travels to schools to give students an awe-inspiring experience to develop an interest in science. Thanks to a grant from Regeneron, on October 17 & 18, students will have exposure to interactive lab sessions with BioBus scientists. 
On October 25, Otto the Auto will be visiting the school to teach some of our students in K-2 about traffic safety topics. Otto is the American Automobile Association's (AAA) animated robot that helps students understand that their good habits as a passenger, bicyclist, and pedestrian will contribute to the overall safety.
In just a few weeks, we are going to roll out a school Instagram page that will feature weekly snapshots from the Innovation Labs. We will share out our Instagram page handle with our school community in the near future. Stay tuned for that and much more to come as we discover more ways to communicate the opportunities afforded to our students at Menands Union Free School District.