These Fridays Just Keep Rolling By, Menands Community!
Fall is upon us and we here at Menands are looking forward to the changing leaves, the spooky season, and everything we have going on here at school.
This Past Week…
Community comes first here at Menands! And Ms. Houbre, Mrs. Kennedy, Mrs. Stanton and Mrs. Wroblewski have been working hard to bring our students together as one big, diverse Menands family with their Our Class is a Family project! The third grade and first grade buddies have spent time together making friendship keychains after they came together for a read aloud. We look forward to them making memories together all year long!
This past Wednesday our Cross Country Team had its first meet of the season! We raced against neighboring schools through the course that runs through the school grounds, the nature trail and the bike trail. Rakei Perez-Pearson in 6th grade won the boys 5/6 race while Shawn Mendonca in 7th grade won the 7/8 boys race! We have three more meets coming up: October 4th, October 11th and October 18th. Come out and support our runners here at Menands School where the next two meets will take place!
Things to Look Forward To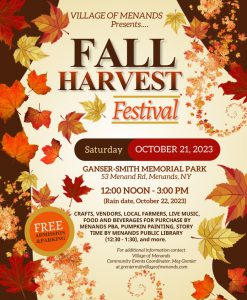 The Menands Village Fall Harvest Festival will be held Saturday, October 21st at Ganser-Smith Memorial Park (53 Menands Rd, Menands, NY). From 12:00 pm – 3:00 pm come and enjoy crafts, vendors, local farmers, live music, food and beverages. From 12:30 pm – 1:30 pm the Menands Public Library will be hosting story time. Admission and parking is FREE. For more information, contact Village of Menands Community Events Coordinator, Meg Greiner at greinerm@villageofmenands.com.
Residents of Menands, please join us for Trunk or Treat and Parade! On Sunday, October 29th a parade escorted by the Police and Fire Departments will begin at the Menands Fire Department and end at the Ganster-Smith Memorial Park where we will have our second ever Trunk or Treat! The parade begins at  To sign up, or if you have questions, please email the Menands PBA at menandspolicepba@gmail.com. 
Important Dates and Reminders
Thursday, October 5th there is an Emergency Release Drill. Students will be dismissed at 2:45 pm.
Friday, October 6th there is NO SCHOOL due to a Superintendent's Conference Day.
Monday, October 9th there is NO SCHOOL in honor of Columbus Day and recognition of Indigenous People's Day.
Monday, October 16th is PICTURE DAY!
CLICK HERE for the October lunch menu.
Thanks for reading, Menands. Please let us know what you think of our Friday update or if we missed anything by emailing communications@menands.org.
Have a great weekend!