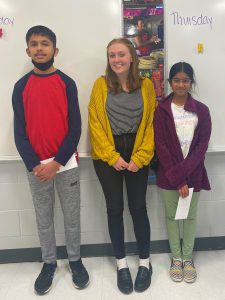 The winner of this year's annual Menands Spelling Bee is eighth grader Preetham Gandla. The runner-up is sixth grader Adhiraa Sivakumar. They both received a gift certificate courtesy of the PTA.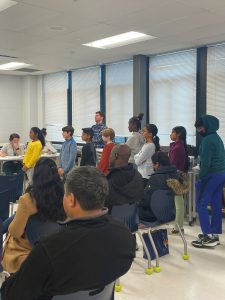 We wish Preetham luck as he moves on to the Regional Spelling Bee on March 15 that will be conducted through Zoom. If he advances regionally, he will compete at the Scripps National Spelling Bee in May. 
Parents came to see our eleven students in grades 4-8 who participated in our school bee. The top two students in each grade qualified for the schoolwide contest by taking a spelling test in their homerooms. In fourth and seventh grades, however, there were three who advanced due to a three-way tie with perfect scores.
Congratulations to the students who competed in this round
4th grade

Ananya Enumadi

Lincoln Mahany

Adveth Sunooj
5th grade 
Cirai Haynes

Evie Blanchette
6th grade
Meenakshi Nair

Adhiraa Sivakumar
7th grade
Varun Prabhu

Cyrus Smith

Kendell Rose 
8th grade
Preetham Gandla

Adithya Thumilan