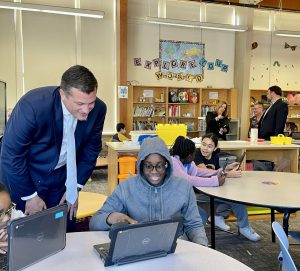 Our district will have a new state senator in January, Mr. Jake Ashby. The Senator-elect reached out to Dr. Long to introduce himself and discuss the school's priorities ahead of the legislative session. A new priority for this year is our Innovation Lab pilot program taught by Mrs. Sposito. 
While Mr. Ashby was touring the school last week, he observed three Innovation Lab classes. The first lesson was a coding challenge with fifth graders. The students were excited to show him how they brought characters to life with code.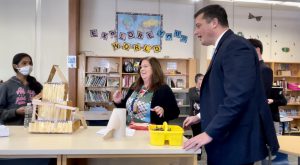 Mr. Ashby had the opportunity to witness the culmination of a month-long, cross-curricular project the sixth graders worked on during their Innovation Lab and social studies classes. 
Mr. Schweizer explained to the Senator-elect that his social studies class has been exploring how ancient civilizations like Mesopotamia developed a complex society and modified their environment. Students researched ziggurat temples and learned that they weren't built from durable material so no complete example of a ziggurat exists today.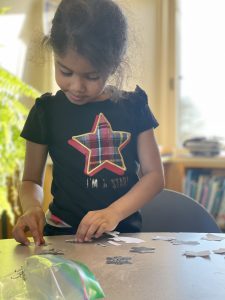 In the Innovation Lab, Mrs. Sposito presented a STEAM challenge to create a ziggurat. Some students tried to model their ziggurats after the ones that existed in Sumer. All students created a marble run along the outside of their temples. The sixth graders presented their projects and explained their process to Mr. Ashby and the kindergarten class. They were proud to show off their projects and the kindergarteners were eager to try out the marble run track. 
Another class of kindergarteners came in for a lesson taught by the sixth grade class. They created a word search containing ancient civilization vocabulary and made their own puzzles with ziggurat photos.